Study Rooms:
There are 10 rooms available for group study on the 1st and 4th floors of the library. Under our current 3-foot spacing guidelines, the capacities of each room are as follows:
First Floor:
Rooms 1 & 6: 4 people
Rooms 2-5: 2 people
Fourth Floor:
Rooms 405, 406, 413, & 414: 2 people
Room 416: 1 person
COVID Policies
At this time, the library and other University buildings are only open to current students, staff, and faculty of the University of Bridgeport, Paier College, and Goodwin University.
Masks must be worn at all times inside the library.
Please maintain a 3 foot distance between yourself and others while in the library. Occupancy limits for 3 foot spacing have been posted on all rooms and at the entrance to each library floor.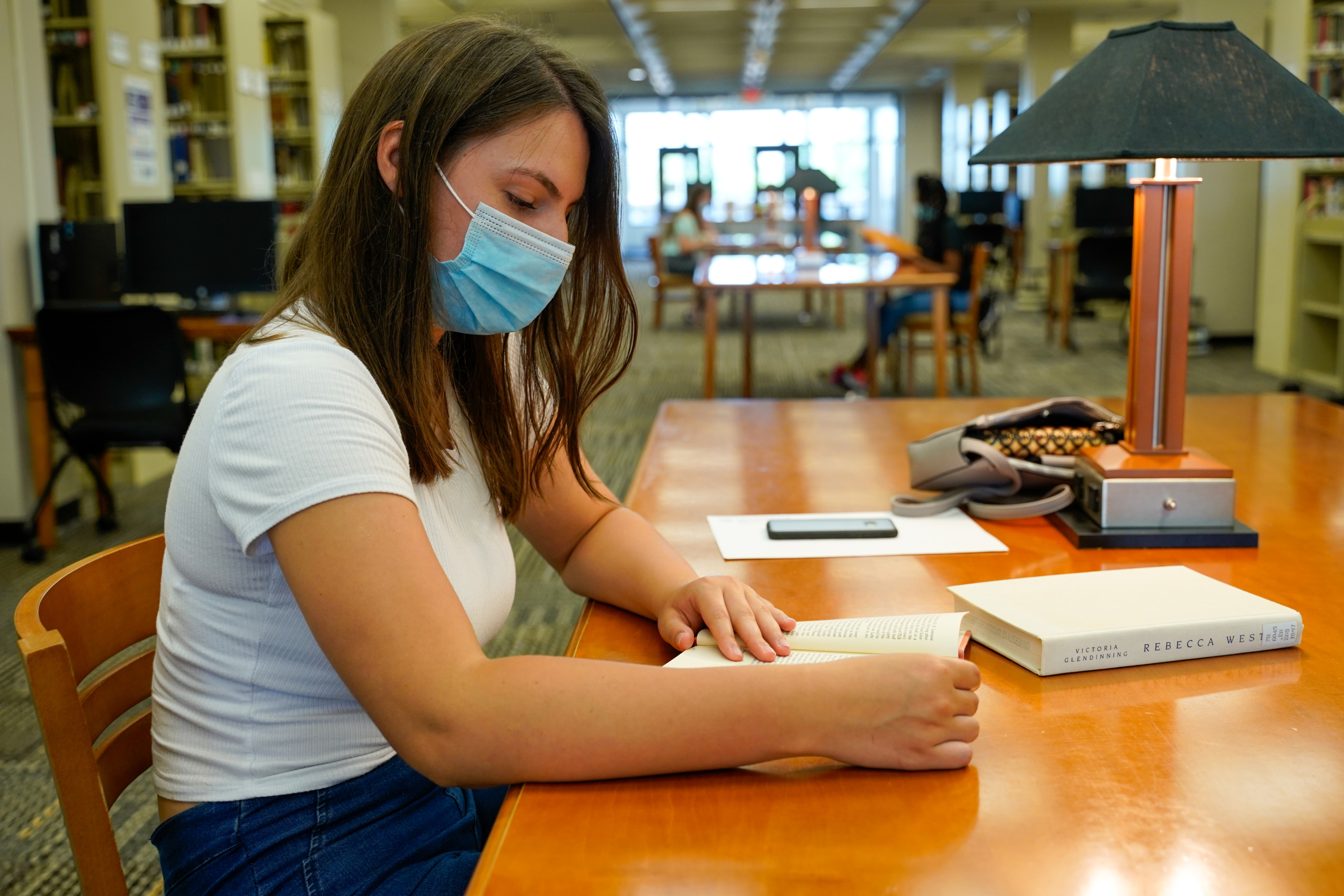 Library Spaces
The Wahlstrom Library is located on floors 1, 3, and 4 of the Wahlstrom Library building. Here is what you'll find on each floor:
1st Floor
Information Desk
6 group study rooms
Two B&W student printers
44 computers for student use
Discovery Pavilion*
Donut Crazy
3rd Floor
Circulating books
Staff offices
B&W student printer
Color printing services
33 computers for student use (with Adobe Creative suite)
4th Floor
Quiet floor – report noise complaints to 203-576-4747 or reference@bridgeport.edu
4 group study rooms
Adaptive technology room. Respondus LockDown Browser also available
Anatomical models room – for access, see staff at Information Desk
Print journal collection
*The Discovery Pavilion can be reserved by Faculty and Staff using the Faculty/Staff Event Request Form (in the myUB portal click Forms, then scroll down to the form); and by Student Organizations at KnightLife.
Printing
Student printers are located on the 1st and 3rd floors of the library. These are self-service, black and white machines. Black and white prints (and copies) cost 10 cents per page, which is deducted from your print account. Scanning to email is free. For color printing, see a librarian.
To print from a library computer:
Sign into any of our computers with your UBNetID and password. Using the standard print menu, select the printer named Student Printing, and click Print. Your print job is now Held in a queue and ready to be redeemed at any of our printers.
To print from your personal computer or other device:
First, make sure the file you would like to print has been downloaded onto your device. Then, open a web browser and go to printing.bridgeport.edu and sign in with your UBNetID and password. In the left menu, click Web Print. From this screen, click Submit a Job, then Upload Documents. Once your documents have uploaded and their status is listed as Held in a queue, your print job is ready to be redeemed at any of our printers.
Redeeming a print job:
To complete your print job, go to one of the library's student printers on the 1st or 3rd floors and tap your Student ID on the sensor in front of the machine. Your print job will be released automatically. If this is your first time printing, you may be asked to authenticate your account by entering your UBNetID and password on the printer's touchpad.