Borrow books, DVDs, whiteboard markers
Use your current UB ID to check out items.
Books – Use your Student ID at a Self Checkout Machine on the 3rd floor
DVDs  – Located on the 1st floor
Whiteboard markers – Request at the 1st floor Information Desk
If an item is currently checked out, you can place a hold for it using OneSearch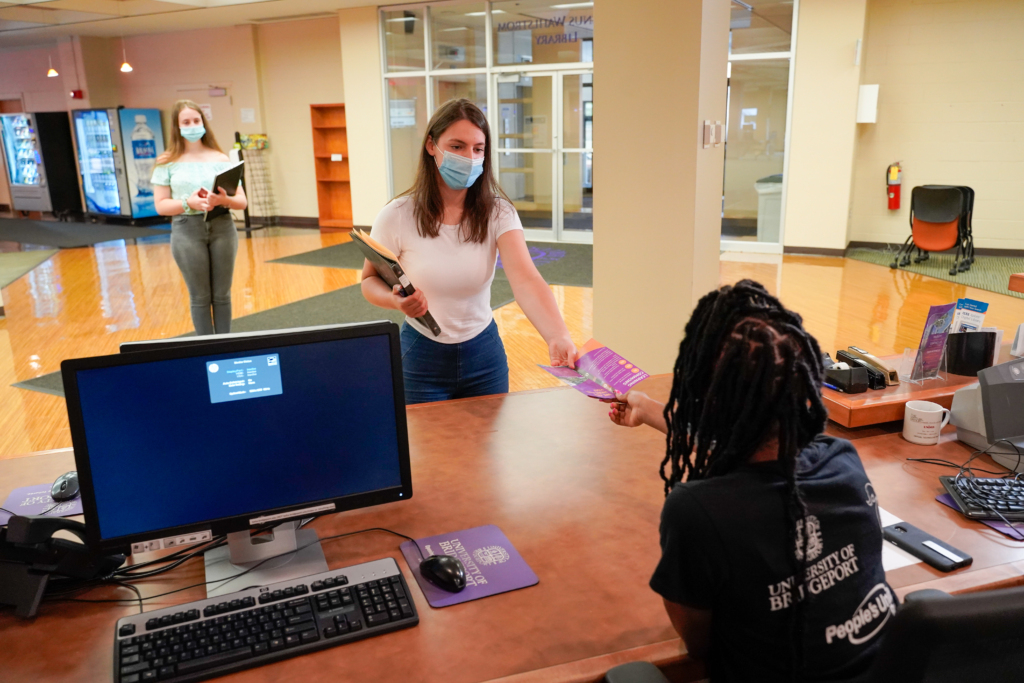 Renew items
Books and DVD's will be renewed once automatically. After that, please bring the item in to renew at the 1st floor Library information desk. Laptops will not be renewed; please check out another laptop if you need to continue using a laptop. Other items will be renewed as long as there are no holds placed on the item, the item is not overdue, and you do not owe fines/fees. You can view your checked out items and due dates at your library account page.
Return items
Items can be returned to the Library Book Drop to the right of the Park Ave. entrance to the Wahlstrom Library building or to the 1st floor Library information desk.
To view a Dissertation or Thesis
Dissertations and Theses written by University of Bridgeport Students are housed with the University Archives on the 8th floor
Many Dissertations and Theses are digitized and can be found in UB ScholarWorks
If the Dissertation or Thesis you need has not been digitized, you may make an appointment to come to the library and view it here
OR
You can make a request that we digitize that Dissertation or Thesis next by contacting reference@bridgeport.edu
If you are not a member of the University of Bridgeport community, there will be a cost of $30 to send you a copy
We cannot guarantee a fast turnaround time
Dissertations and Theses are only digitized during Semesters when student assistants are working