UB ScholarWorks is a digital service that collects, preserves, and distributes the scholarship materials produced by the University of Bridgeport and its faculty, staff, and students in accordance with relevant copyright laws.
If you are affiliated with University of Bridgeport and would like to archive your academic work with us, here are instructions on how to submit materials to UB ScholarWorks:
Start a submission
To submit new items to the UB ScholarWorks database you must first be logged in. You can log into UB ScholarWorks using your UBNet account through the link in the upper right of the page, though if you have logged into other UB services like the myUB portal you may already be automatically logged into the site.

Once logged in there are two ways to submit items to the repository. You can either submit to a collection by clicking the submit a new item to this collection link in a collection: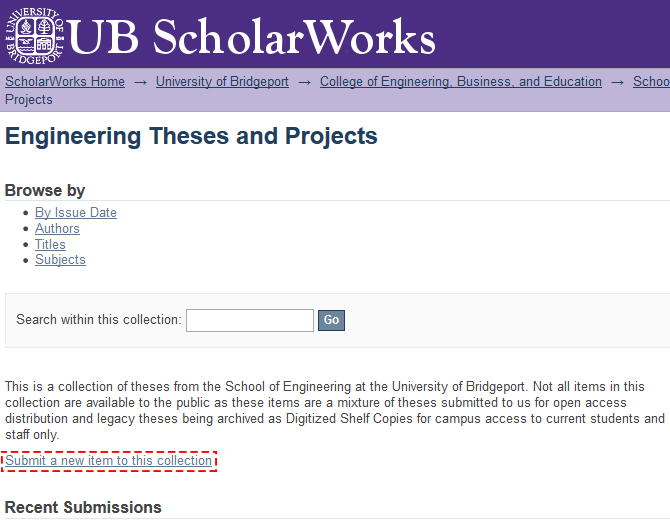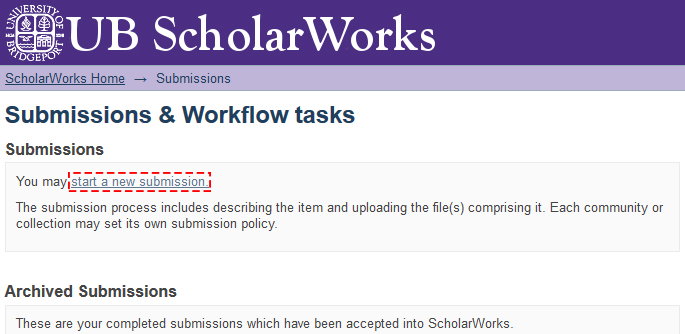 When coming from the submissions page you will also need to select which collection your publication will live in from the drop down and then click next.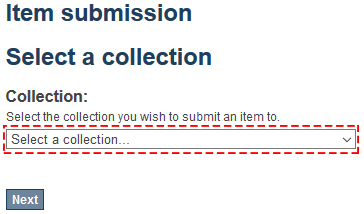 Describing your submission
Once a collection has been selected, either by submitting directly from the collection or from the drop down in the submission section, you will be asked two initial questions. If the publication has more than one title check Multiple titles. If it has been published in a journal, book, or other form check Published. Then click next. Note that if you need to leave and come back you can click Save & Exit and you will be able to find your partially finished submission in your account submissions area.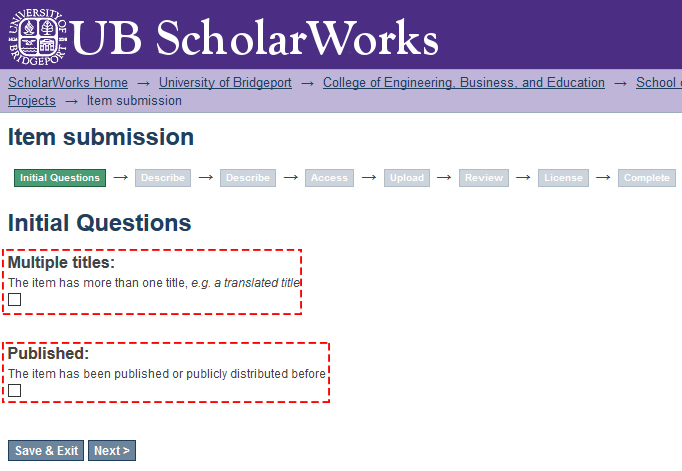 You are then asked to fill in as much bibliographic descriptive information you can. You must include at least one author and a title. Multiple authors can be added by entering one then clicking add. If you wish to include a person's middle initial add it to the First name(s) field. If an author has more than two names please only place the very last one in the Last Name field and place the rest in the First Name(s) field. For every other form field please fill in as much as you can. If you are uncertain enter what you can and contact our Digital Content Librarian for advice. While we ask you be as accurate as possible a librarian will be reviewing every submission before accepting them so if you do make an error it should be dealt with before your submission is approved. Once you have filled in as much bibliographic information as possible click next.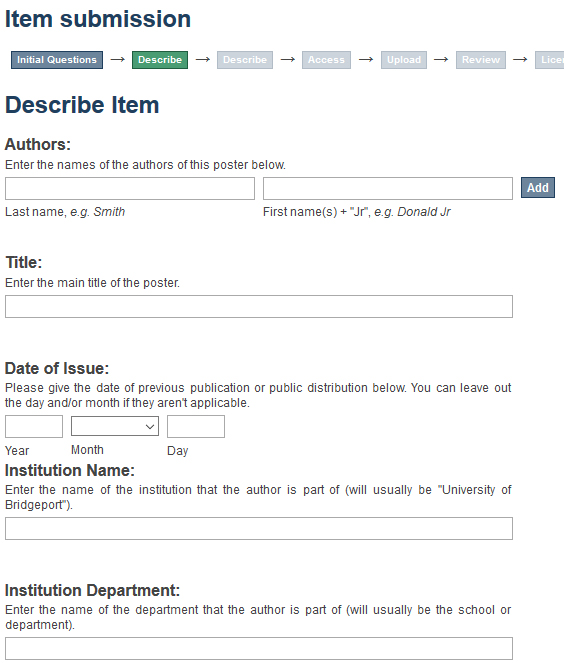 Now we ask that you fill in some more general descriptive information so people can more easily find you publication and understand what it is about. First add a few relevant Keywords to make it easier to find your publication. Please format them with on the first letter of the first word capitalized and everything else lowercase. Then if you have an abstract for your publication or would like to make one please enter it in the Abstract field. Please note the software the UB ScholarWorks runs on does not recognize paragraphs or line breaks so please format your abstract accordingly. If your publication does not have an abstract then please fill in the Description field with a few sentences so users of ScholarWorks know what your publication is about. If the publication was sponsored by anyone please also fill that in the Sponsors field. Once that is filled in then click next.
Submission restriction settings
Now that the description is complete you need to let us know if there are any access restrictions. The system provides options for private items, but as the purpose of UB ScholarWorks is display and share scholarship that is created at the University of Bridgeport we will generally not accept private items. We will accept embargoed items, though you will need to to tell us which day we can provide access to the item, as well as the reason for the embargo. If your work is embargoed but we have access to it through a library database we can provide a link to that item until the time we can provide open access to your work. If there are legal reasons that only the campus is allowed access please contact the Digital Content Librarian to let us know so we can accommodate. Once you have informed us of any access restrictions to your materials then click next.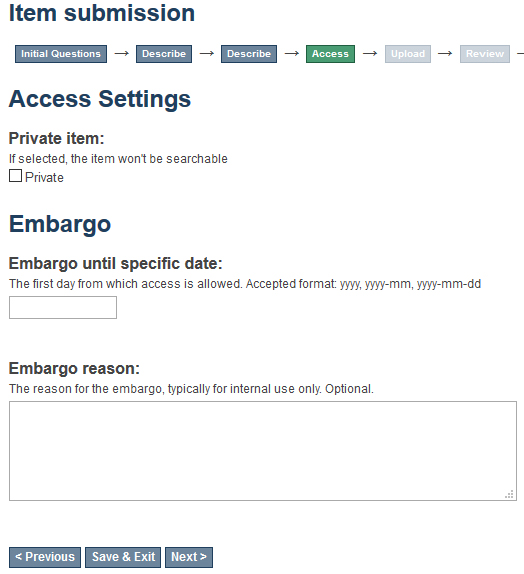 Upload your submission
Now that there is a description and the access restrictions have been set you need to upload the publication to UB ScholarWorks. To do so click browse, find and select the file wish to upload, and click open. Then click Upload & add another.
Note: Please make sure that you are uploading a version that is allowed by the publishing agreements you have signed with your publisher. To find out which version of your published work your publisher allows you to post in an institutional repository, check your agreement or the web page of the publisher Author Guidelines.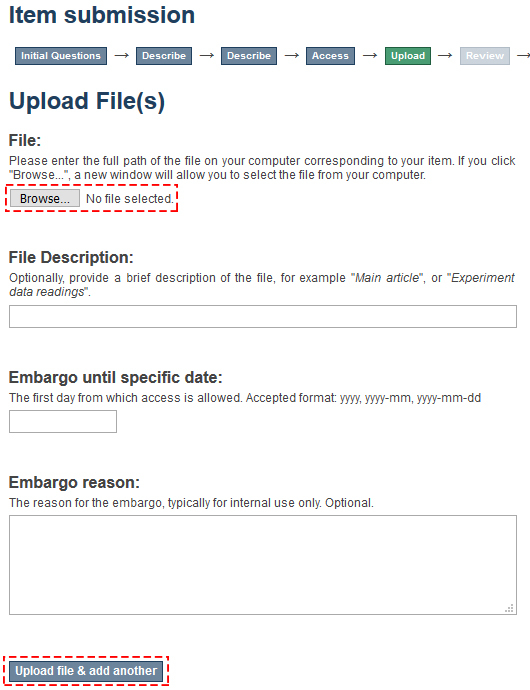 If the file has any embargo restrictions be sure to fill that in here. Once your files have been uploaded you now will see the uploaded file in a list titled Files Uploaded. This will give you an opportunity make sure this was the file you wanted to upload, upload any additional files, or remove any files that you did not want uploaded via the checkbox and the Remove selected file button. You must have one file uploaded and then click next to continue.

Review your submission
You are then given the opportunity to review your submission. If you see a problem then click on Correct one of these to go back and fix it. Otherwise click next to continue.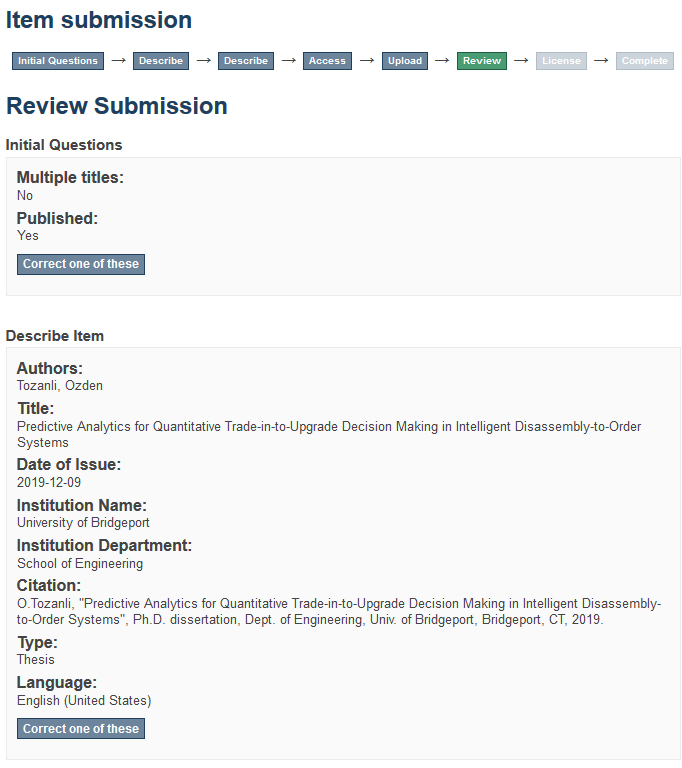 Submission distribution permission agreement
One final step before you have finished, you need to agree to grant us permission to upload your publication to UB ScholarWorks. If you agree to do so then click the I Grant the License checkbox and then click Complete submission.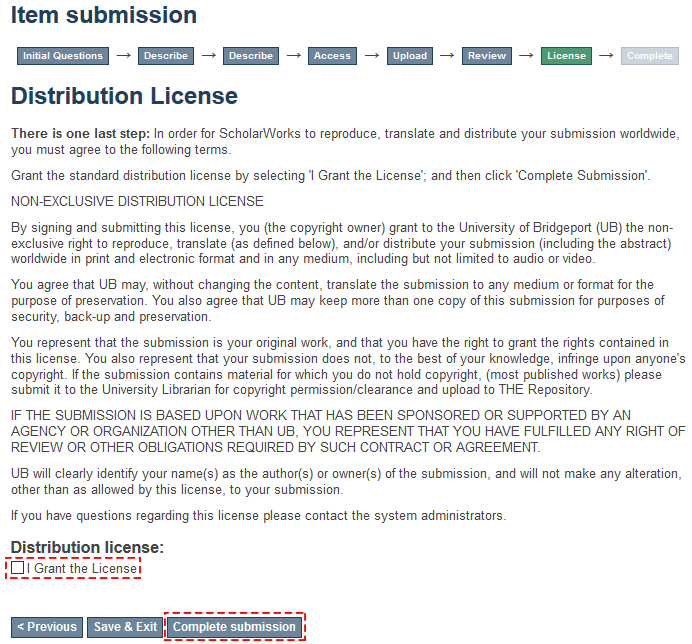 Completed submission
You have now completed submitting a publication to UB ScholarWorks. You can use this page to continue submitting more items or to go back to your submissions page.

Your submitted items will not automatically appear in UB ScholarWorks. A library staff member will review your submission to ensure the record matches our formatting guidelines and to verify that we have valid copyright the permission to post your publication. Please contact the library at reference@bridgeport.edu if there are any special requirements for your submission, such as needing to place an embargo on it for a period of time or making it only accessible to UB students, faculty, and staff as opposed to complete open access to the world. Thank you for taking part in UB ScholarWorks.